Precarious Citizenship: Unseen, Settled and Alone – The Legal and Protection Needs of 'Undocumented' Children and Young People in England and Wales.
Our new report is out, presenting the findings of over four years of specialist casework with 52 separated children and young people whose lives have been affected by being 'undocumented' – unable to prove that they are British or otherwise lawfully allowed to remain in the UK.
The launch event for Precarious Citizenship: Unseen, Settled and Alone, held yesterday, continued MiCLU's aim of bringing together a diversity of professionals working in support of this group, from social workers, lawyers, teachers, healthcare professionals and others in frontline services to campaigners and academics. Speakers from the MiCLU team were joined by Paul Bowen QC and representatives from UNHCR, the Prince's Trust, the Project for the Registration of Children as British Citizens, Centre Point and the Children's Society to discuss and explore the findings and implications of the report – which is the first of its kind to scope the legal, protection and welfare needs of 'undocumented' young people who are alone in the UK.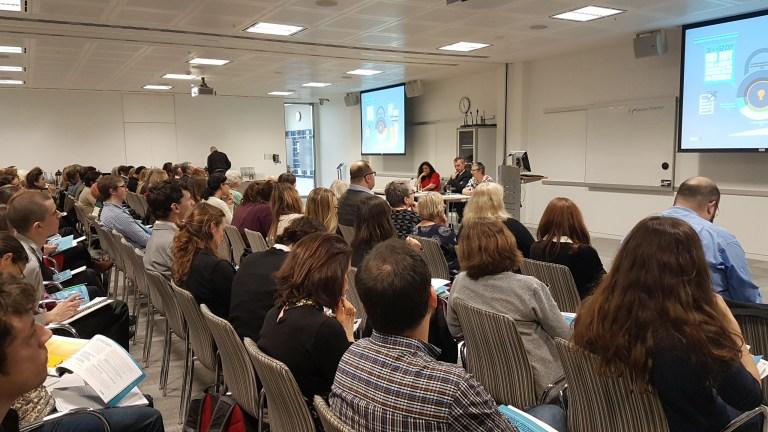 By combining the expertise of children's rights lawyers with specialisms in immigration, housing and education and narrating individual journeys through a range of interventions, Precarious Citizenship: Unseen, Settled and Alone elaborates on the protracted and interconnected socio-legal problems that render undocumented children and young people particularly vulnerable and lacking effective support. In the context of LASPO and other austerity-driven cuts to public services, the government's 'hostile environment' strategy and the ever-shifting field of immigration and asylum law, undocumented children and young people are falling through bureaucratic, legislative and systemic cracks that are not covered by the asylum system, mainstream welfare services or existing children's legislation and procedural guidelines.
In the report we model and argue for a child-rights focused, multi-disciplinary practice that gives primary consideration to the child or young person's immediate needs and future best interests.
The first obstacle to protecting and supporting undocumented children and young people lies in identification: frequently they are not aware of their situation until a crisis or "watershed" moment such as leaving home, starting a job, applying for higher education, or applying for welfare benefits. This new awareness can itself be devastating, an attack on their very 'identity' – learning from an adult or stranger during childhood or transition into adulthood that they do not belong in the UK because they have no documentation to prove their 'legal' right to stay in the place they have long believed to be their home.
Ninety percent of the cohort believed themselves to be British at the point of referral, and 30 of the total 52 did not receive the correct identification of their immigration problem, despite accessing support. This finding exposes a major gap in current service provision, which unrealistically expects children and young people with multiple vulnerabilities to engage with a complex legal framework in order to self-identify their status and legal needs and take action accordingly.
The inability of the children and young people to evidence their right to live, work, study or access services in the UK gave rise to a wide array of other problems that in turn prevented proper engagement with the immigration legal issue that triggered these problems. Often a lack of child-friendly service provision meant that an initial barrier was the child or young person's mistrust of adult professionals, who had failed to understand or address their particular vulnerabilities or turned them away altogether as ineligible on the basis of their lack of documentation – a damaging misperception resulting from the lingering legacy of the UK's historic reservation to the UN Convention on the Rights of a Child in relation to immigration.
This mistrust of adult professionals, combined with a justified fear that bringing themselves to the attention of the authorities might impact their ability to stay in the UK, led to mediation becoming an essential strand of the casework. Mediation also took on particular importance given the frequent breakdown of relationships with family or a carer experienced by the cohort, which in some cases prevented access to documents or information that would advance their cases. While adults who enter the country with a spouse are protected by the immigration rules if their relationship breaks down due to domestic abuse, no such protections exist for child or young dependants.
The casework approach underlying the research was highly successful in bringing about positive outcomes for children and young people: at the time of publication 86% had moved on from undocumented status, and all had had their most immediate legal and social needs met (though many were still involved in protracted battles over welfare benefits, housing and long term leave to remain). Such outcomes are exceptional: the casework team offered intervention far beyond the scope of current legal aid provision, and purposely targeted a group who are scarcely mentioned in current statutory guidance. The sea change in attitudes, practice and policy that is required to protect this group is summarised in our eight broad recommendations at the end of the report.
Key messages we took home from yesterday's launch, coming from the fantastic speakers and commenters, were that children must be treated as children first and as migrants second; and it needs people from all professions to work together, to think innovatively about what fresh interventions they can make in their work in order to make this group of children and young people seen, to be able to help them so they are no longer alone.
To view the report click here.