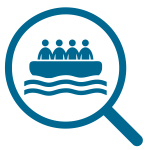 Breaking the Chains is a unique project designed to meet the specific needs of asylum-seeking children and young people from Albania, as one of the most marginalised communities of asylum seekers, by providing a holistic legal representation and advice service which is child-centred and child-friendly. Through the project we work with Albanian asylum seekers and victims of modern slavery.
We take a look at the facts behind the recent claims that ministers have made in relation to boat arrivals of Albanians.
"Albanians are "abusing" the Modern Slavery Act in order to frustrate attempts by the Government to deport them" [1]
"Because of the scale of illegal immigration, including through small boats, we have not been able to provide the kind of welcome that we would have wished for those coming from, for example, Afghanistan or Ukraine." [2]
– Robert Jenrick, Immigration Minister
"The aims and the structure of that legislation have been completely distorted. Now what we are seeing is a majority of people coming here from Albania — some 80 per cent — of the people coming across on small boats are claiming to be victims of modern slavery." [3]
"We have too many asylum seekers who are abusing the system. [….] Many are leaving a safe country like France and abusing our asylum system. […]
"Today, the largest group of small boats migrants are from Albania – a safe country. Many of them claim to be trafficked as modern slaves. That's despite them having paid thousands of pounds to come here, or having willingly taken a dangerous journey across the Channel."[4] 
– Suella Braverman, Home Secretary
Albania is considered a safe country and the country is listed as a designated state under section 94 of the Nationality, Immigration and Asylum Act 2002. This means that, 'there is, in general in that state or part of it no serious risk of persecution of persons entitled to reside in that state or part of it.'[5] 
– Home Office factsheet
Claim: Eighty percent arriving by boat are Albanians claiming to be victims of modern slavery
Albanians have arrived in the UK via irregular means (for example lorries or boat crossings) in previous years and it is impossible to know exactly the numbers of those arriving or to accurately report trends over time, however the increased accessibility of crossing over the English channel means that a larger proportion of those arriving irregularly will be intercepted and recorded. It is important to note that not all new arrivals will choose (or have the effective choice) to enter either the asylum system, or be referred as victims of modern slavery.
Of the 7,948 people who were referred into the National Referral Mechanism for the identification and protection of victims of modern slavery (the NRM) in the first two quarters of 2022, 2,138 (27%) were Albanians. This is an increase but not exactly a meteoric rise when compared with the overall rate of those being referred into the mechanism from 2014 until 2021, with 9,307 Albanians making up 17% of all 55,431 individuals referred[6]. In fact, Albanians have for some time formed one of the largest groups trafficked into the UK.
Similarly, whilst Albanian nationals currently form the largest number of those arriving by boat, the proportion does not any way near 80%, being closer to 32% (12,000 of 38,000 arrivals during 2022)[7].
It's worth putting this all in proportion considering other arrivals of asylum seekers to the UK: according to Home Office statistics, irregular arrivals accounted for just 26% of overall arrivals of asylum seekers in the year 2022 to date, the same proportion as those arriving under the scheme for arrivals from Hong Kong, and significantly fewer than arrivals from Ukraine (at 48%). Meanwhile the proportion of those arriving via resettlement – the only "legal route" for asylum seekers of all other nationalities including Afghans – was just 0.6% of all arrivals of asylum seekers[8].
Individuals cannot make a "claim" to be a victim of human trafficking: an individual cannot self-refer to the NRM. They must be referred by a designated organisation or agency ("first responder"), with the individual's consent. This only happens when a frontline professional or first responder becomes concerned that someone may be a victim of human trafficking. First responders include statutory agencies such as the police, local authorities, the Gangmasters Licensing Authority and a limited number of designated charities. Lawyers are not first responders and cannot make a referral into the NRM.

Claim: Anyone fleeing a peaceful country is not in need of protection
A refugee is a person who fears persecution in their country of origin on the basis of one of five recognised 'Refugee Convention' reasons:
Race/ethnic origin
Religion
Political opinion
Nationality
Membership of a particular social group
Whilst persecution for the Refugee Convention reasons may be more common during times of war or conflict, they are not limited to this.
Individuals fearing persecution because they are a member of a particular social group are frequently fleeing countries perceived as "peaceful" which nevertheless have laws or practices which are in effect persecutory.
This means that some people living there may have their lives threatened but their home country is unable or unwilling to protect them. Hence they need the protection of another state, even though their country is not 'at war'.
Modern slavery on the other hand is a serious and often hidden crime that comprises slavery, servitude, forced and compulsory labour, and human trafficking (the harbouring and transportation of individuals for exploitation).
A victim is usually used and exploited for someone else's gain, without respect for their human rights and involving some element of coercion, such as threats, use of force, deception, or abuse of power so that the victim performs acts or services against their will.
Victims can be any nationality, gender and age but children, young people and vulnerable adults are often targeted. Modern slavery occurs in all countries, whether at peace or at war and regardless of the wealth of that country (according to government statistics, in both 2019 and 2020 the most common nationality of potential victims of modern slavery in 2020 was UK nationals, accounting for 34% or 3,560 of all referrals to the NRM[9]).

Claim: Albania is a safe country and all Albanian migrants to the UK are economic migrants
Migrants leave their home country for range of sometimes overlapping reasons, and circumstances may change following departure, resulting in a different set of reasons for not returning home.
Albania is known for its high poverty rate and there are certainly significant economic drivers behind migration to the UK. However, although Albania is not currently at war or in a state of internal armed conflict, there are significant and longstanding issues related to corruption, trafficking, blood feuds, discrimination and violence against the LGBTQI community, stigma and discrimination against the ethnic Roma and Egyptian communities, gang-related violence, and sexual and domestic violence that the Albanian government appears either unable or unwilling to resolve.
As such, victims cannot obtain redress within Albania, and where the issues listed above cause a threat to an individual's life or fundamental wellbeing, their only option may be to flee and seek sanctuary abroad.
It is also accepted by the international community and the UK Home Office's own guidance to its caseworkers[10] that human trafficking is a significant problem within Albania. According to the most recent US State Department Trafficking in Person report on Albania (2021)[1]. Albania is a source, destination and transit point for human trafficking. Its government during 2020/2021 did not convict any traffickers, identified fewer victims than in previous years, and reduced resources to NGO-run shelters for victims of trafficking, despite being a signatory to the European Convention against Trafficking.
The Home Office's own guidance recognises that the factors that render individuals vulnerable to trafficking frequently coincide with factors that may cause someone to fall within the definition of 'particular social group' under the Refugee Convention. The guidance also recognises poverty and other economic factors are relevant to a risk of trafficking.
This is compounded as those who fall prey to exploitation subsequently become more vulnerable to re-trafficking. Victims of trafficking are likely to face harsh consequences from traffickers both in the UK and on returning home should they seek to escape their situation. Economic pull factors thus turn into more complex push factors where individuals become debt-bonded to work off the cost of their journey to the UK and end up as victims of trafficking, while economics and poverty may be the underlying reason behind the original persecution perpetrated in Albania with some young people having been trafficked to the UK to pay the existing debt of a family. In all such cases, Albania is not safe for that individual and they are in need of international protection.

Claim: Albanian migrants are abusing the Modern Slavery Act
The data available within the UK makes clear that significant numbers of Albanians are arriving in the UK and seeking asylum, and that many of these individuals also provide information in support of their asylum claims which indicate that they may have been trafficked in modern slavery.
Considering extensive reports regarding Albanian criminal gangs operating trafficking and smuggling networks in Europe and the UK, it seems credible to expect that an uptick in the operations of such gangs should lead to an increase in the number of victims being exploited.
When an individual is referred into the NRM as a "potential victim of trafficking" there is a rigorous two-stage assessment process, applied by the "Single Competent Authority" (the SCA, the department within the Home Office responsible for assessing whether an individual has been trafficked). The SCA decides firstly whether there are "Reasonable Grounds" to suspect that a person has been trafficked, and where such reasonable grounds exist, then goes on to the second part of the process which is to consider whether there are "Conclusive Grounds" to accept that the person is a victim of trafficking.
An analysis of data from the Home Office[11] shows that Albanians referred into the National Referral Mechanism are recognised as being victims of exploitation at a very similar rate to that of other nationalities, in terms of the proportions of positive Conclusive Grounds decisions: between 2019-2022 89% of Albanian children with positive Reasonable Grounds decisions received positive Conclusive Grounds decisions compared with 93% of all children; and between 2019-2022 85% of Albanian adults received positive Conclusive Grounds decisions as did also 85% of all adults.
The data also shows that the overall rate of recognition for both Albanian children and adults who were referred into the National Referral Mechanism in relation to suspected exploitation overseas (ie those travelling to the UK and claiming that they were victims of trafficking or modern slavery in Albania or en route from Albania) is meanwhile higher than it is for referrals in relation to suspected exploitation overseas of all nationalities: between 2019-2022 91% of Albanian children referred in relation to exploitation overseas received positive CG decisions compared with 90% of all children; and between 2019-2022 90% of Albanian adults referred in relation to exploitation overseas received positive CG decisions compared with 89% of all adults.
However, while the time that it takes from referral to Conclusive Grounds decisions has been increasing for all nationalities over time with a very large current backlog[12], this delay is significantly greater for Albanian children and adults. The contrast is particularly stark with regard to Albanian children compared with children of other nationalities[13].
This data shows that the majority of Albanian nationals referred into the NRM are now consistently formally recognised as genuine victims of trafficking and modern slavery, but face a longer wait to receive recognition of the validity of their need for protection.

Claim: Albanians are economic migrants abusing the asylum system to avoid deportation
In the first half of 2022, 56% of all decisions made for Albanian applications for asylum resulted in a grant of protection or a grant of other leave[14]. This figure does not take account of subsequent appeals, approximately half of which for Albanians over the last six years were successful [Home Office stats ref]. These figures indicate that the majority of those from Albania who claim asylum are genuinely in need of protection.
While applying for asylum applicants are not allowed to work or claim benefits. Long delays in the asylum decision-making process are well-documented but, as with the delays in decision-making regarding Albanian victims of modern slavery, these can be seen to particularly affect unaccompanied Albanian children. In 2022 65% of all asylum applications from Albanian unaccompanied asylum-seeking children (UASC) were pending more than 24 months while just 19% for the remaining top 7 UASC-producing countries were pending for more than 24 months[15].
Home Office statistics also reflect that the large majority of Albanian UASC are no longer children once they finally receive a decision[16], meaning that their childhoods are effectively put on hold until they age out and they become more exposed to trafficking and re-exploitation, leading some to argue that, combined with the huge delays in decision-making regarding trafficking, the system is abusive toward young Albanian migrants rather than the other way around[17].
Not all Albanians arriving by boat claim asylum, and the increase in arrivals from Albania is thought to have led to a drop in the proportion of individuals arriving by boat claiming asylum, on the basis that fewer Albanians as compared with other nationalities claim asylum on arrival[18]. This does not necessarily imply that all those who do not make an application for asylum do not need protection. In September 2022 Kent County Council said it took into its care 80 Albanian young people who arrived during the summer unaccompanied but stating that they did not wish to claim asylum: "They'll come into our care very temporarily and despite everything we do – because we can't lock them in – they'll be missing usually within 24 hours. That's because they have been trafficked into the UK, and the traffickers will be moving them onwards to a final destination where they will be put to work."[19]

Claim: Arriving on a small boat means you're an illegal migrant, not a real refugee
Those fleeing for their lives will seek any means to obtain safety. For Albanian nationals fleeing persecution there are minimal "safe and legal routes" to claim asylum. There is no such thing as a "visa" that will allow you to seek asylum in the UK. Many Albanian refugees are fleeing individuals involved in trafficking and organised crime across Europe. Albanian nationals have freedom of movement across the Schengen zone and so Albanian nationals fear that their persecutors will be able to locate them easily within that zone. In the absence of any safe and legal route to enter the UK to claim asylum, Albanian nationals have limited options to seek safety.
As to whether boat arrivals are committing a criminal offence through their entry, Home Office guidance on irregular or unlawful entry and arrival in the UK updated on 8 July 2022[20] clarifies that people who are intercepted at sea and are brought or escorted to a port are considered to be arriving passengers and not illegal entrants. However, this guidance does not consider the new offences and other changes made by the Nationality and Borders Act 2022 so the position is still not entirely clear. It is important to note however the important principle enshrined in Article 31 of the Refugee Convention and recognised in UK law, that refugees should not be penalised for their mode of entry as long as they present to the authorities without delay and make an asylum claim as soon as possible. There may be arguments to be made around this, and, as Colin Yeo, barrister at Garden Court Chambers notes, if the person is a refugee or victim of trafficking or modern slavery there will likely be compelling public interest reasons against prosecution[21].
[1] https://www.telegraph.co.uk/news/2022/11/01/modern-slavery-act-set-reform-tackle-migrant-crisis/
[2] https://hansard.parliament.uk/Commons/2022-10-27/debates/4D7AF554-033A-452F-B059-2E94936B8948/Cross-ChannelMigrantsManstonFacility
[3] https://www.thesun.co.uk/news/19978120/suella-braverman-stop-illegal-channel-migration/
[4] https://www.ukpol.co.uk/suella-braverman-2022-speech-to-conservative-party-conference/
[5] https://www.gov.uk/government/statistics/factsheet-small-boat-crossings-since-july-2022/factsheet-small-boat-crossings-since-july-2022
[6] Source: Home Office, Modern Slavery Research & Analysis. (2022). National Referral Mechanism and Duty to Notify Statistics, 2014-2022. [data collection]. 5th Edition. UK Data Service. SN: 8910, DOI: 10.5255/UKDA-SN-8910-5.
Separate statistics are now available for quarter 3 of 2022, which shows that of 4,586 potential victims of modern slavery who were referred to the Home Office in quarter 3 (representing a representing a 10% increase compared to the preceding quarter), the number of Albanian nationals was 1,294 or 28%: see the National Referral Mechanism and Duty to Notify statistics UK, July to September 2022.
[7] https://www.bbc.co.uk/news/explainers-63473022
[8] https://freemovement.org.uk/putting-small-boat-crossings-in-perspective/
[9] https://www.gov.uk/government/publications/2021-uk-annual-report-on-modern-slavery/2021-uk-annual-report-on-modern-slavery-accessible-version
[10] https://assets.publishing.service.gov.uk/government/uploads/system/uploads/attachment_data/file/1105202/ALB_CPIN_Trafficking.pdf
[11] See https://miclu.org/analysis-of-home-office-statistics-on-the-national-referral-mechanism_version-2. Source: Home Office, Modern Slavery Research & Analysis. (2022). National Referral Mechanism and Duty to Notify Statistics, 2014-2022. [data collection]. 5th Edition. UK Data Service. SN: 8910, DOI: 10.5255/UKDA-SN-8910-5)
[12] A large proportion of cases referred into the National Referral Mechanism that have received positive Reasonable Grounds decisions are still pending a Conclusive Grounds decision, for Albanians as well as for all nationalities. Of 10,340 Albanian individuals for whom a positive Reasonable Grounds decision has been made since 2014, 6,271 ie 61% are still waiting for a Conclusive Grounds decision. Of 44,202 of all other individuals for whom a positive Reasonable Grounds decision has been made since 2014, 26,062 ie 59% are still waiting for a Conclusive Grounds decision.
[13] Overall from 2014 until 2022 the average time to reach a Conclusive Grounds decision from the date of referral is 633 days for Albanian children compared with 335 days for children of all other nationalities.
[14] Home Office Immigration statistics, year ending June 2022.
[15] This is based on data from a recent Freedom of Information request regarding the lengths of time asylum applications are pending an initial decision from the Home Office, comparing adults and children, and among nationalities of the top 7 UASC-producing countries. See https://miclu.org/assets/uploads/2022/11/Comparing-the-lengths-of-time-asylum-decisions-are-pending-for-adults-and-children.pdf
[16] Just 156 or 25% of all 624 decisions made for unaccompanied asylum-seeking Albanian children were issued while they were still children, while 3,679 or 47% of 4,172 decisions made for UASC of all other nationalities were issued while the applicants were still children, during the years 2019 to 2022. See Home Office Immigration statistics, year ending June 2022.
[17] Christine Beddoe argues that "delays in trafficking and asylum decisions place young people at greater risk of trafficking within the UK, and specifically labour exploitation and criminal exploitation. Home Office delays are causing mental ill health, social isolation, poverty and distrust of authority. These are the same vulnerabilities that traffickers prey upon when grooming their victims." Into the Arms of Traffickers: An examination of how delays in asylum and trafficking decision-making increase the risks of trafficking for young asylum-seekers. Christine Beddoe. October 2021 https://miclu.org/assets/uploads/2021/10/Into-the-Arms-of-Traffickers-Main-Report.pdf
[18] According to Dan O'Mahoney, Clandestine Channel Threat Commander, in evidence given to the Home Affairs Select Committee, "[asylum] claims this year are at 93%, which is slightly lower than last year, at 98%. I imagine you want me to go into a bit more detail about that later, but a large proportion of that reduction is among the Albanian migrants who have crossed this year, many of whom choose not to claim asylum." https://committees.parliament.uk/oralevidence/11390/pdf/
[19] https://www.cypnow.co.uk/news/article/concerns-over-trafficking-of-lone-albanian-children-arriving-in-kent
[20]https://assets.publishing.service.gov.uk/government/uploads/system/uploads/attachment_data/file/1091233/Irregular_or_unlawful_entry_and_arrival.pdf
[21] https://freemovement.org.uk/are-people-crossing-the-channel-in-small-boats-doing-anything-illegal/