The Children's Society have launched a petition to call on the Government to reinstate legal aid for all unaccompanied and separated migrant children.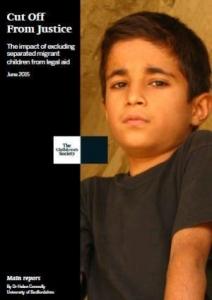 The Government's decision in 2012 to remove free legal help for thousands of unaccompanied and separated migrant children has left them on their own and unable to navigate the complex immigration system. However, the Government is about to review this decision.
We believe that all children and young people in the UK should be kept safe and have equal access to justice, regardless of where they were born. However, sweeping changes made to legal aid provision for immigration cases have put some of the most vulnerable children in this country at serious risk and unable to get the help they need.
The Children's Society's report, written in partnership with Dr Helen Connolly, University of Bedfordshire, highlights the needs of unaccompanied and separated children in a system that often renders them invisible. It updates the findings in Cut Off from Justice (2015), four years after the introduction of the Legal Aid, Sentencing and Punishment of Offenders Act, and provides recommendations. Read the report here.