What is Kids in Need of Defense UK?
Kids In Need of Defense UK is a collaboration between the US Charity KIND, Inc and three legal advice charities in the UK. Kids in Need of Defense UK aims to translate the US pro bono model of KIND Inc into the UK legal landscape – a self-sustaining pro bono programme of legal representation for migrant children and young people where there is inadequate, or no legal aid representation, available.
KIND Inc was established in the US in 2009 by Angelina Jolie and Microsoft, to address the lack of legal advice and representation available to unaccompanied children going through immigration proceedings in the US. Although many unaccompanied children in the US had refugee claims or potential applications for legal permission to stay, lack of access to legal advice and representation meant that they were unaware of their rights, and unable to put their cases forward adequately or at all, and they faced removal to countries in which their lives were at risk.
Although there is no formal legal aid system in the US comparable to that in the UK, all attorneys in the US are required to complete a certain percentage of their annual billable hours carrying out work on a pro bono basis. The KIND model harnesses that pro bono resource, and combines it with expert supervision and mentorship provided by KIND's own immigration attorneys. This enables pro bono attorneys from large corporate firms to take on unaccompanied children's cases directly, and to represent them in their immigration cases with a view to obtaining permission for the children to remain in the US.
In addition to legal representation KIND also has a Public Education and Outreach programme, and regional operations targeted at improving the lives of children in source countries for migration to the US.
See more information about KIND in the US here.
Why do we need Kids in Need of Defense in the UK?
Wayne
2017-09-05T11:33:34+01:00
Until 1st April 2013, unaccompanied children in the UK could access legal aid in relation to asylum or immigration applications subject to financial eligibility. On 1st April 2013, the Legal Aid Sentencing and Punishment of Offenders Act 2012 ("LASPO") came into force, and removed most non-asylum immigration matters from the scope of legal aid. This meant that children who had established significant private and family life in the UK during a period of long residence, or because of their particular life circumstances, could no longer access legal aid to obtain advice and representation in relation to an application to remain in the UK on that basis.
Although LASPO provided for an 'Exceptional Case Funding' system, this was complicated, and impossible for children to navigate alone.
An estimated 120,000 undocumented (or unresolved) children live in the UK, many of whom are entitled to British citizenship or a right to remain (Nando Sigona and Vanessa Hughes (2012) No way out, no way in: irregular migrant children and families in the UK. Oxford: ESRC Centre on Migration, Policy and Society, University of Oxford).
MiCLU is committed to improving the lives of migrant and refugee children via access to justice, legal and policy work. Our report Precarious Citizenship sets out our findings from our research into the experiences of 52 undocumented children and young people represented by MiCLU during 2012 – 2016. The findings were stark. Undocumented children and young people largely had no choice in the decision to bring them to the UK: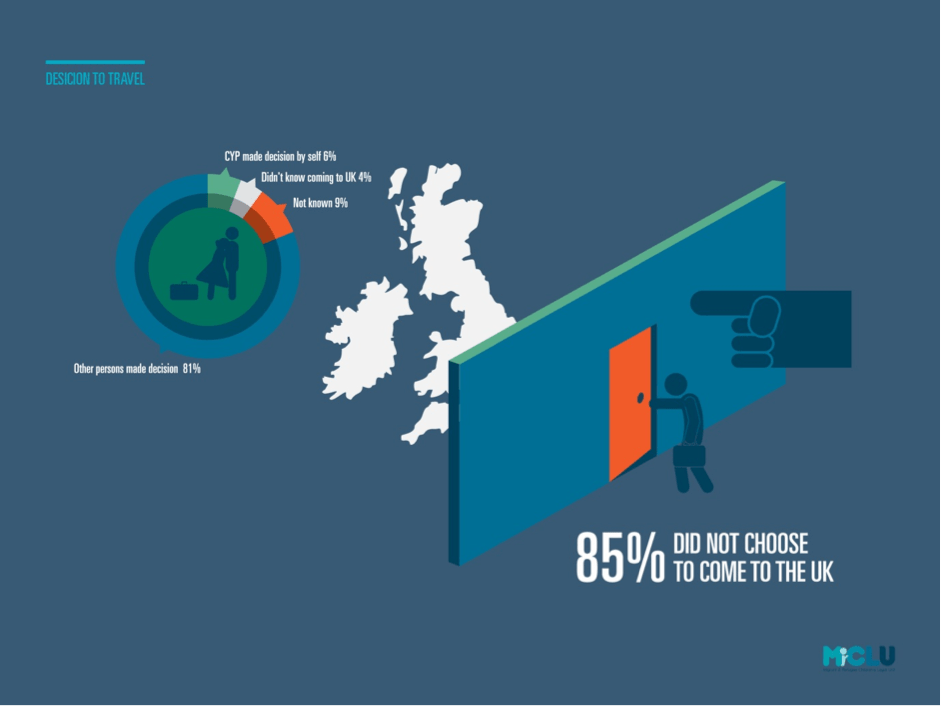 However, they had to deal with the consequences: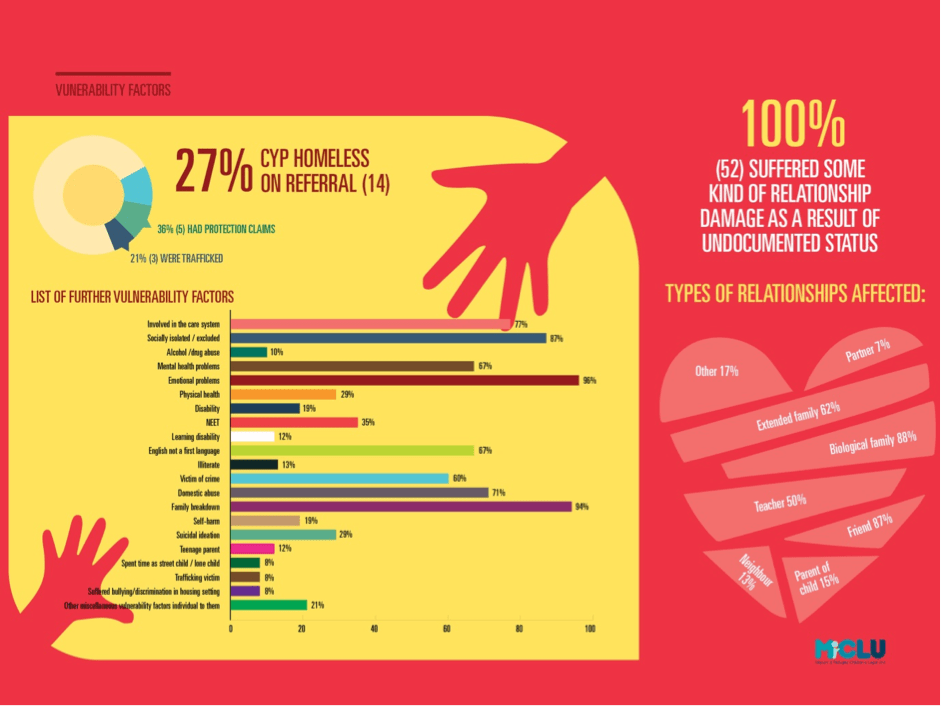 The loss of legal aid in immigration cases was a cruel blow for undocumented children and young people, and MiCLU understands that the implications of being unable to regularise their status has the potential to blight young lives.
MiCLU is therefore proud to be part of Kids in Need of Defense UK.